6 Ways To Reduce Business Stress-Stress Management For The Business Person
Stress Management For The Business Person
Most business people are very efficient in operating their business, at the same time the majority of good business owners are the worse at managing their stress. I used to be very much like the majority of business owners, I just pushed myself all the time with my business. Even worse,  most of us are not very good at all with sharing our work load, we are anxious so we take on more than we should so we know everything is being taken care of properly. Many times being under severe stress and anxiety we are not making the best business decisions all the time, also this will cause us not to be thinking as clear as we would if we were not stressed out.
6 Ways I Manage My Business Stress & Anxiety
Not so long ago,  I hit rock bottom with my health, I lost my career and most of the things which were important to me. I have recovered over time and I am back in business once again,  I have learned a very good lesson you must have good stress management skills or your stress will control you.  When you are being controlled eventually it will catch up to you like it did me,  here are the ways I reduce my business stress today.
Well Balanced Lifestyle
Yoga
Meditation
Deep Breathing
Business Journal
 Nature Retreats
Well Balanced Lifestyle
This is really the most important and the most difficult for most business owners, we have this natural instinct to want to push ourselves to the maximum for our business success. I have experienced when you do not make time for play and relaxation your business will not be as successful as it could be,  relaxation time actually allows us to be more efficient and productive.  Get yourself into a regular routine to take frequent breaks from your business,  I recommend one weekend per month to recharge your batteries.
Yoga
Today I do yoga every morning before starting my day, it only takes 30 minutes of yoga per day to manage your stress. The best part is you can split this up any way you desire, you can do 15 minutes in the morning and 15 in the late afternoon or evening. Yoga will improve your production and your decision making, you can even do this in the privacy of your office. This is basically stretching exercises with focusing on your body posture and breathing, you will be amazed how adding this into your life will increase your business success.
Meditation
Meditation throughout your day will improve your mental clarity, plus give you an energy boost. This also can be done in the privacy of your office, purchase yourself some guided meditation DVD's and you will be meditating in very short time. Doing this during your day will keep you feeling more relaxed and able to manage your stress more efficiently, only takes a few minutes to do there are 10 minute guided meditation DVD's & CD's available at a very low cost.
Deep Breathing
On days you might have a very busy schedule and cannot spare even 10 minutes to do yoga or meditation in your office you can always depend on deep breathing to relieve your anxiety from your stress, very easy to do just take deep breaths through your nose. During your inhale you should feel inflation in your belly if you are doing it correctly, on the exhale just let all your breath out naturally. You can master this in a very short time, this is your most convenient stress management technique.
Business Journal
Purchase yourself a low cost journal to write everything which is on your mind, this very simple technique will ease your anxiety.  Often I will use my business journal to make my to do list, then all I have to do is check my journal to remind myself what I need to do that day. Just getting things in your journal and off your mind will give you more stress and anxiety relief than you will imagine until you start doing it regularly every day.
Nature Retreats
Spending time in nature is another great method to add to your lifestyle, consider having your lunch in the park on nice sunny days. What better place to do your stress management techniques you learned, trust me you want to take your stress management serious. Taking walks in the park is another technique you can use, when your active you burn your stress and anxiety away.
What Is On My Mind Today
These simple techniques which takes very little time and are very convenient are amazing at managing your business stress,  any business owner is under a great deal of stress most days. Managing this stress is your key to being able to operate your business with the most success for the longest time possible, do not be like me and let stress control you and force you to lose your business and have to start all over again.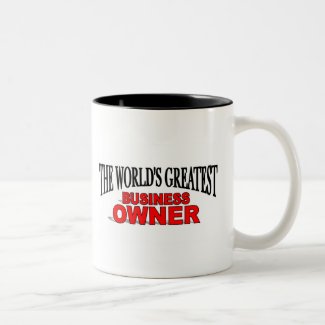 The World's Greatest Business Owner
by
theworldsgreatest
See more Greatest business owner Mugs at
zazzle.com