Anger Coping Skills For Children-Anger Management
Anger Issues
Anger issues is becoming more severe as time goes by, even our children are becoming angry and out of control. Could the best strategy for our anger management be our diets, today the majority of people live on 90% processed and fast food. These chemicals we are putting into our bodies is affecting our health both physically and emotionally, it is not normal for our children to have so much anger inside of them. Possibly we should change our diets to more whole natural foods and less processed, by changing your diet in this way many people will experience less anxiety and less anger.
Anger Issue Signs In Children
Hitting
Biting
Spitting
Fighting
Bullying
Screaming
Tantrums
Aggression
Kicking
Blaming Others
Improper Behavior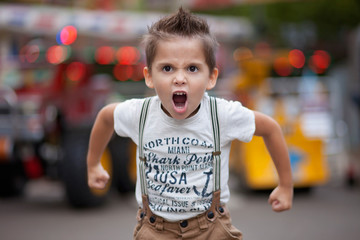 Anger Management
Anger management is learning how to recognize your anger signs and dealing with them in a positive way, I really feel our children are becoming monsters from the chemicals we have been consuming for many generations. The majority of children with anger issues don't feel their anger building up, their anger just explodes so suddenly they are just reacting. I have noticed myself changing my diet has reduced my anxiety and I am able to handle stress much calmer than in the past; I feel this same strategy would make a huge difference in many children's lives as well.
Anger Awareness
Many children are reacting to triggers which is setting their anger on fire, many adults struggle with anger, so how can we expect our children to manage their anger when we cannot? First step for adults and children would be to identify your triggers, this often is the most difficult step for many people with anger problems. Many people expresses their anger just comes so quickly before they can react, knowing the physical signs is your next step and these two steps will eliminate or reduce your emotional reaction with anger.
Identify your triggers
Learn skills to calm yourself down
Solving the problem
Communicating
Triggers
Many children have triggers which is obvious to understand, the majority of children when over tired will become angry very quickly. Most people today experience sleep problems, solving your sleep problems can be a huge step to managing your anger. Processed foods increase people's sleep problems, this is especially true when you eat processed foods late in the evening. Gluten foods have been found to be a major trigger for both sleep and anger problems, again managing our diets might be the solution everyone is looking for?
Physical Signs
Fatigue
Headaches
Sleepy
Digestive
Rapid Heart Beat
Shakiness
Emotional Signs
Anxiety
Depression
Stress
Violent
Aggressive
What Can You Do?
Talk out your anger
Positive self-talk
Time out safe place
Writing down your feelings & thoughts
Drawing
Coloring
Deep breathing for kids
Relaxation for kids
Guided meditation for kids
Visualization
What Is On My Mind Today?
Sometimes the solutions to our problems are right in front of our face and we just don't see them, many children are consuming high amounts of sugar and caffeine during their day. these two alone can cause sleep and anger problems, anxiety and even depression from the crash after these burnout of our systems. These are all addictive and over consuming will affect your health, often cutting back on these is a first step for many people to see if this makes any difference in their sleep and anger issues?