Down Syndrome And Dating-Is Your Child Ready For Dating
Down Syndrome
Approximately one of every seven hundred babies born in the USA is born with down syndrome, this is the most common chromosomal condition. About 6000 babies with down syndrome are born in the USA every year, children with this syndrome is living much longer than in the past many up to the age of  sixty years old. With so many special needs children in the world today, there is the big question many people are concerned about? What will their grandchildren be like in the future, should these children be able to grow up and date, marry and have families of their own?
Types Of Down Syndrome
There are three types of down syndrome, most people did not know this including myself. Like many forms of special needs children this syndrome has mild to severe cases. There are many special needs children today functioning well enough they are accepted in our society, they have jobs they go to everyday like you and me. Some even live on their own, so why should these high functioning people with disabilities not be able to date, marry and have children?
Trisomy  95%
Mosaicism  1%
Translocation  4%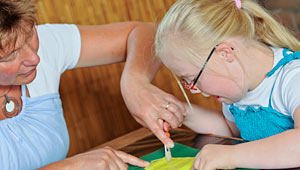 What Is The Difference?
Trisomy 21 has one extra copy  of chromosomes in every cell, twenty-one chromosomes and is the most common type of down syndrome.
Mosaicism  occurs when a child is born with an extra chromosome in some, but not all their cells. Tends to experience less symptoms than Trisomy
Translacation the child only has an extra pair of chromosome twenty-one
Children Born With Down Syndrome
Living With Down Syndrome
Children living with down syndrome do experience a delay in their physical and intellectual development, but many today are graduating from high school, attending and graduating from special colleges, and are employed. The age expectancy has increased to the age of sixty years old, many are high functioning in the community and in the school systems. Some are employed in the health care system, the majority are active in social activities and volunteering. Many are even active in recreational activities, with all this many are more active in their lives than many of us without down syndrome?
Girls / Women
Girls and women with down syndrome has the same interests and desires as any other person their age, teenage girls looks forward to dating and socializing. The majority do have the desire to marry and have children, physically most are able to become pregnant and give birth to a child. Approximately fifty percent are fertile, menstruation for these girls are no different from any other girl. Thirty-five to fifty percent of the children born to mothers with down syndrome are likely to have down syndrome or other developmental disabilities. If the women is physically and emotionally stable with high functioning, the question is should she be allowed to give birth to a child of her own?
Marriage & Family
There are many special needs children today who will be teenagers and young adults in the future, many of these people will be high functioning and able to earn their own living and even manage their own home. What reason's can anyone have against people with these types of disabilities to enjoy a normal and happy relationship, any person with down syndrome who is high functioning and healthy enough should have the choice to bring children into the world or not too? Some people will argue if is not right to bring more children with down syndrome into the world, but you and your partner who might be healthy could bring a child with special needs into the world just the same?
Help For Dating With Down Syndrome
Boys / Men
The medical professionals is unsure about the offspring of a down syndrome man would have down syndrome or not, men with down syndrome does have ea significantly lower fertility rate then other men. There just has not been much studies on the male with down syndrome when it comes to fathering children with developmental disabilities, the male does experience the same sexual interest and urges as other men.
What Is On My Mind Today?
This is a very complex situation for a family to make a decision, many parents of down syndrome children might prefer taking the risk to have grandchildren? Others might feel it is better not to bring a child into the world with developmental disabilities, who should have the right to make this decision? Many married women with down syndrome are capable of taking care of a child, possibly they have more rights to make the decision than anyone else since they grew up and live with down syndrome themselves?